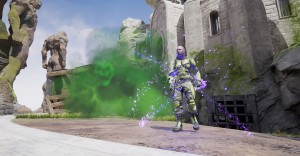 We at Chaos are very pleased to announce that MetalFist has agreed to join our ranks. She is a talented artist, and we're lucky to have her aboard.
She has already begun working on some very nice art assets which will be included in one of our upcoming Internal Releases. You can see a couple of the items she's working on in this screenshot. What we have here are two new effects for relics. Poison gas for the Pestilence relic, and a new 'wave' effect for our AntiGrav relic.
Both should still be considered Works In Progress, as usual.
Here are some test vids that show the progress so far.
Naturally we expect to be bringing you much more from Metal in the future.
Thanks for reading!